North Queensland cattlemen develop crime fighting mobile app
By Lea Coghlan, published in North Queensland Register

Pentland grazier Russell Broad was busy managing his Brahman herd during the drought four years ago, when, thousands of kilometres away in Melbourne, Jillian Meagher was murdered while walking home one night.

The two situations sit worlds apart but are intrinsically connected and, together, have combined to act as inspiration for a new crime prevention mobile application.



"Four years ago we were in pretty bad drought at home and when it's like this there is a lot of work, a lot of time to yourself and a lot with your thoughts, solving problems the whole time or trying to," Mr Broad said.

"At that time Jill Meagher was murdered in Melbourne. It didn't seem right to us that a savvy young woman like that didn't have the means at her disposal to protect herself from such a creep."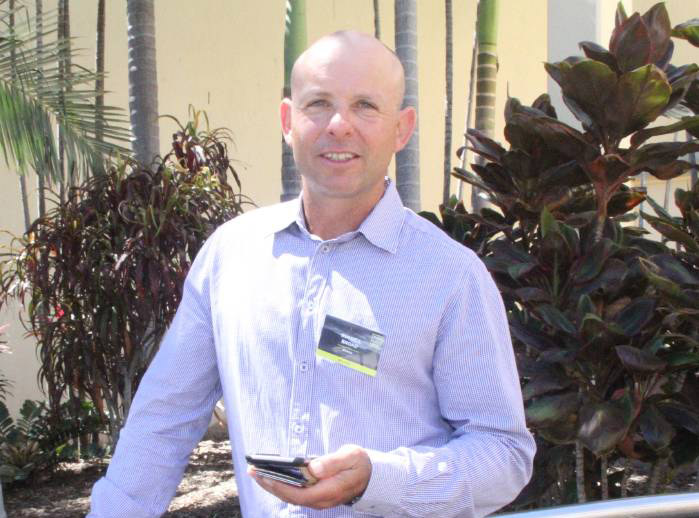 Mr Broad discussed his thoughts with brother-in-law Ben Callcott, a grazier from Einashleigh, who was also feeding drought-stricken stock.

The pair often swapped ideas.

"It just happened upon him what the solution was and it's a fantastic solution," Mr Broad said.

Koorca – a crook spelt backwards – was born, with Mr Broad the managing director. He said the solution was to prevent the crime by depriving opportunists their anonymity.

"It's based on crime opportunity theory," he said.

"When people commit a crime they weigh up a few things, that is, how good the opportunity is and whether they are going to get caught. This app drastically increases the chances of someone getting caught."

Russell Broad, Koorca, addressing the North Queensland Entrepreneurs Conference at Townsville.

While being kept under wraps until its launch, the mobile phone application allows people in dangerous situations to capture crucial data.

Mr Broad, a former police officer, said the concept was a "no brainer", and had piqued the interest of the Queensland Police Service.

"It's so simple and it will prevent crime," he said.

Koorca is one of the early success stories of The World Incubator designed to help launch start-up businesses and encourage entrepreneurship.

"It wouldn't have happened without The World Incubator," Mr Broad said.

He says is not an entrepreneur, rather, someone who is not afraid to have a go.

"It might be more difficult than I thought but I'm someone who is prepared to have a crack," he said.

"I have a fair bit to lose but not as much as I have to gain," Mr Broad said.

"I don't know how financially it will pan out, but you only have to save one life.

"We won't know if that will happen, but if Koorca gets out there that's exactly what it will do and then it will be worth everything I spent on it and then some."