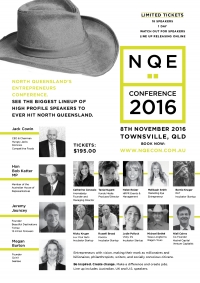 We can all change the world and make it a better place. All We have to do is have the confidence to put our hands up, take action, and take our seat at the table.
Starting a business, or accelerating our business growth is no different. It's about change, evolution and having a goal that we are prepared to stick with, unless there is a faster, smarter and more efficient way of getting to the end result.
The
North Queensland Entrepreneurs Conference
is
ground-breaking
, in that it brings together 18 speakers ranging from the top entrepreneurs in the world, through to Members of Parliament and Mayors of Councils. What people will learn and experience from this conference will change their perspective, and hopefully create "take-home" value that will improve their businesses or allow them to take the first step to starting a business of their own.